Ocean and Surf Therapy is an evidence-based experiential therapy that has been shown to increase overall mental health, happiness and lead to behavioral changes.
Surf therapy is an intervention that combines the therapeutic elements of the ocean, incorporating aspects of mindfulness with the adventures of surfing to impact the physical and mental well-being of individuals.
Benefits of surf therapy treating mental health and substance use disorders:
Increases mindfulness
Builds self-efficacy
Activates "Flow state"
Reduces cravings
Reduces anxiety/depression/PTSD symptoms
Alleviates insomnia
Improves cognitive concentration
At Stoked on Life we incorporate Groundswell Surf Therapy™ curriculum which cultivates safer and braver spaces for you to reclaim your healing, power, and belonging as you dive deeper into self-love, sea love and surf sister/brotherhood.
Our surf therapy programs welcome you exactly where you are at; with a trauma-informed team of licensed therapists, surf coaches, and volunteers that are stoked to see you, hear you, and honor you as you explore your fullest expression of self at a wave near you!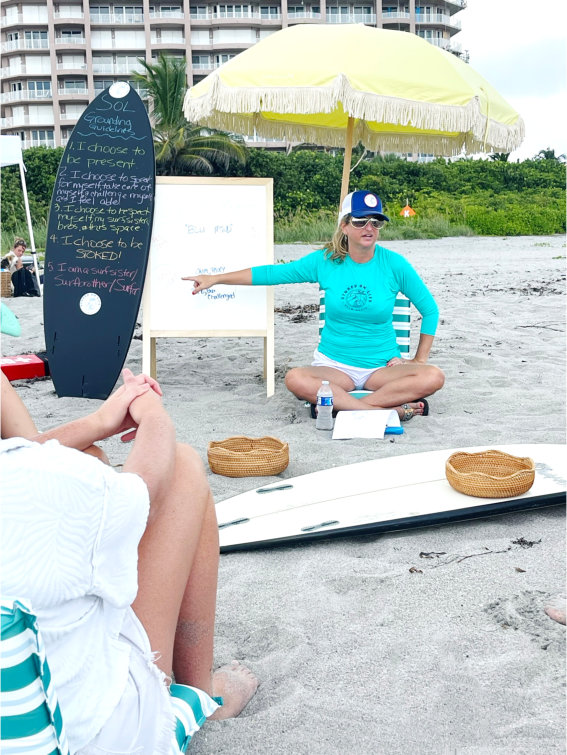 – Our Mission –
Our mission is to provide, promote, and research ocean and surf therapy as an experiential intervention for individuals struggling with mental health and substance use issues.
– Our Vision –
Our vision is that all individuals can access ocean and surf therapy for mental health and substance use issues with ongoing support regardless of financial means.
Sessions
Surf therapy sessions consist of small, ninety-minute groups facilitated by licensed clinicians and surf instructors using mindfulness and flow skills to engage in surfing/processing therapeutic session.
Sessions begin with land instruction and mindfulness activity, followed by surfing in the water with instructors.
The remainder of the session is on land where participants process with a clinician.
Contact Us
Allison Bishop
Founder/Exec Director
Phone: 561-373-7994
Email: Allison@StokedOnLifePB.com